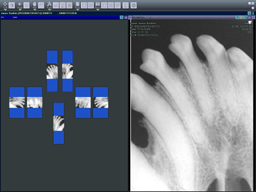 VETinfo SYSTEMS has developed a DICOM dental software exclusively for the veterinary market! This software is integrated within VETinfo SYSTEMS' Micro PowerPACS (MPP) for Veterinary and can interface with any vendor's DICOM dental modalities, whether it's CR, DR or other digital dental. Simply choose the modality to which you wish to connect, then, at a click of a button, acquire images and choose or create a dental mount template. Images will automatically display and can be archived in the MPP for Vet System. A comprehensive toolkit is included with the viewer for diagnostic readings. All dental images and reports can be saved and archived on the same system that contains full body images, under the same patient and same worklist, eliminating the need for multiple software programs.
The most commonly used dental mount templates have been preloaded for Canine and Feline. Mount templates can also be created or customized manually, to fit each veterinarian's unique needs. Users can easily create different sized image frames in one template by utilizing the snap-to-grid functionality. All templates can be saved to the preloaded list for easy retrieval and usage in the future.
Images can be automatically inserted into the templates in the order they are acquired, or can be manually placed in any order. Each image can be manipulated individually (zoom, window/level adjustment, rotate, etc.), within the template before it has been saved.
VETinfo's Dental Software is fully integrated with MPP for Veterinary, enabling the user to view, store, query, retrieve, and send DICOM images from one system. This product is equipped with VETinfo's RSVS Viewer, which provides users with the ability to do side-by-side comparisons and perform image operations with included manipulation tools. Additional workstations can be added for additional viewers within the practice or at remote locations using VETinfo SYSTEMS' Web Viewer. Shelf archive for disaster recovery and instantaneous image sending to referral physicians either through removable media or email, are included as well. Veterinarians will be at ease having dental software product that is easy to use and meets their needs to acquire multiple digital dental modalities and full body images.
Dental Mount Templating Tools:
Images can be automatically inserted into dental mount templates
Easily create your own mount templates:
Choose from existing preloaded canine and feline mount templates, which can be modified and saved as new templates
Image frame sizes are adjustable in mount templates
Snap-to-grid mount templating functionality
Dental Viewer:
Comprehensive toolkit, including zoom, window/leveling, panning, measuring, and much more
Pseudo-color and embossed tools can be applied to any image
Full body and dental images are stored into one centralized worklist and PACS system
Side-by-side image comparison capability
Web-enabled viewer both local and remote image viewing
Additional viewing stations can be added and networking capabilities can be increased for multiple exam rooms and/or remote locations
Integrated Digital Imaging Platform:
Simple integration with all DICOM modalities
DICOM send and receive functions
Image storage and archive
Easy CD/DVD burning
DICOMmail to e-mail images to a referring doctor, saving the time and money associated with burning images to disks
Additional Benefits of VETinfo SYSTEMS:
Assurance that all modalities will communicate within one system
24/7 technical support from our team of qualified technicians
Live voice when calling technical support, not automated service
Outstanding reputation in the medical PACS industry for over 15 years