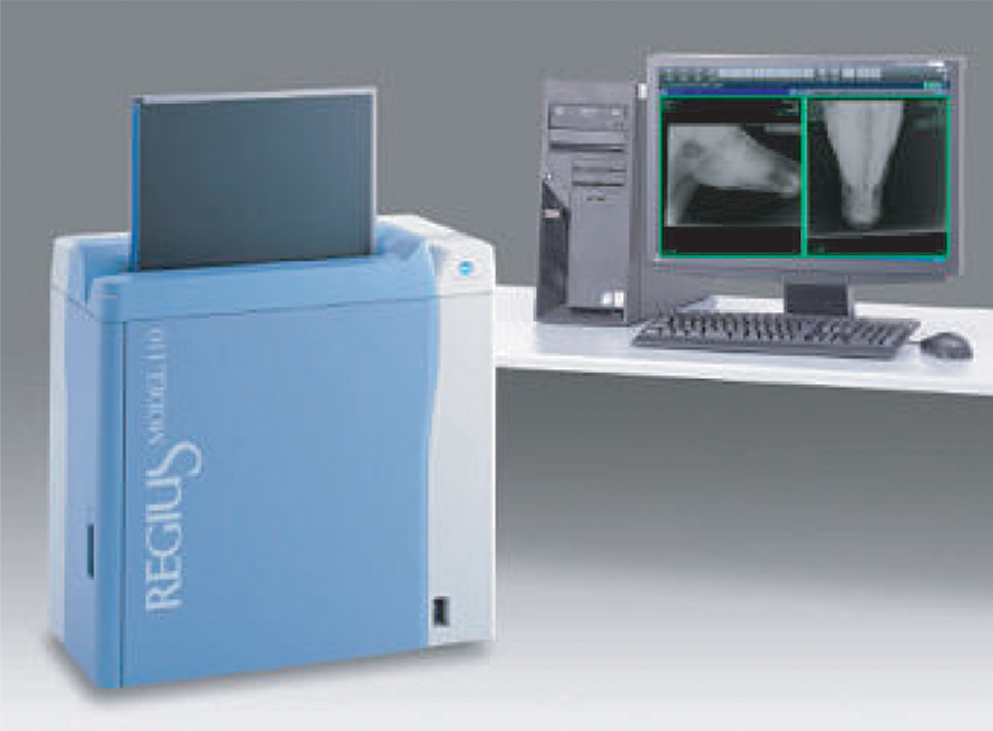 VETinfo SYSTEMS has selected Konica Minolta to introduce a fully integrated turnkey digital solution to the Veterinary Market. This combination will enable practices to generate and acquire x-ray images through Konica Minolta's advanced CR technology features, including automatic veterinary algorithms, and will be managed by VETinfo SYSTEMS' Micro PowerPACS (MPP) for Veterinary. VETinfo SYSTEMS and Konica Minolta's exceptional reputations in the medical industry make this superior partnership a winning choice for all veterinary practices.
The complete digital turnkey system can directly acquire not only CR images, but also dental images using VETinfo SYSTEMS' advanced dental software module. The system can import, export, and store a variety of images from multiple modalities, including dental, CR, DR, ultrasound, endoscope, and more. The software then incorporates all images into one centralized worklist in MPP for Veterinary. Employing the Konica Minolta CR Reader and VETinfo SYSTEMS' dental software with MPP creates a seamless digital turnkey solution in one computer hardware, saving time and money for any practice. Veterinary practices no longer need multiple software programs and computers, because the new integrated solution covers it all.
Our customers see considerable savings in time and costs by purchasing fewer software programs and requiring less training time for end-users. In addition, less hardware is required, since the entire process, from image acquisition to diagnosis, can take place on one computer. Additional workstations can be added in different exam rooms to view the images in multiple areas of the practice, and remote access is also available for any practice to access images and reports off-site.
All installation and training for the entire integrated digital system, including PACS, CR, and other software programs from VETinfo SYSTEMS, is provided by VETinfo SYSTEMS on-site. Now, instead of trying to schedule appointments and communicate with different vendors, there is one remedial source to meet all of your needs--VETinfo SYSTEMS handles it all, dynamically serving the end-user and the practice.
FEATURES
Top-Rated Technology:
KLAS and MD Buyline both ranked the Konica Minolta Medical Imaging CR No. 1 for the last several years in overall system performance and reliability.
Konica Minolta CR Reader:
Small and compact, making it a perfect fit into any practice; less than 3 sq. ft.
Cassette loading from front or side
60 plates/hour (14'x17')
0% mechanical interference with IP
Unique linear technology with fewer moving parts
Konica Minolta Imaging Plates:
Konica Minolta plates are strong and lightweight
Image plate is never touched by the plate reader
100% iodine in phosphor composition = high x-ray absorption
2 years warranty on imaging plates, regardless of usage
Longer life of plates because of the patented rigid image plate, which is contact free within the CR reader, eliminating the risk of image artifacts
Automated Vet Algorithms:
No need to select 'body parts' for specific image processing algorithms, which prevents mistakes
Processing parameters are automatically determined based on bone and tissue density
Konica is the first and only CR reader with this advanced technology
Additional Product Features:
User operated cassette release handle to remove jams, virtually eliminating service calls
Optical Unit Sweeper enables self-maintenance for excellent image quality and extends product lifetime, preventing hair from entering and clogging the system
Unique linear motor technology, with fewer moving mechanisms for reliability and longer life
Product Details:
REGIUS 110 Nano CR Reader
Two 14'x17', two 10'x12'cassettes/plates
Imaging station
500 GB storage
21' wide screen high-resolution monitor
Exam acquisition and review
*Konica Minolta CR specifications provided upon request