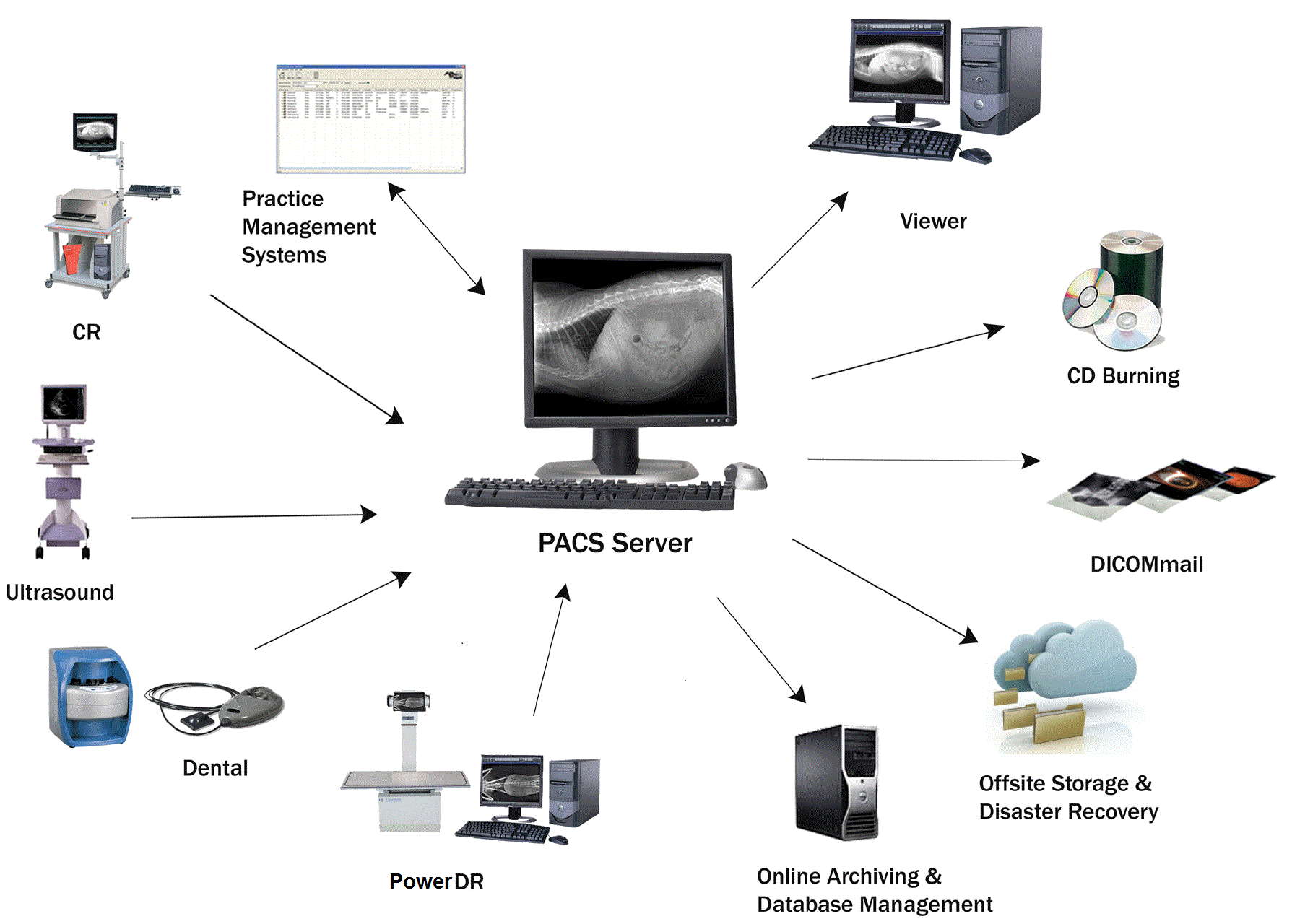 VETinfo SYSTEMS' Micro PowerPACS (MPP) for Veterinary was developed to deliver optimum performance, based upon the needs of veterinary practices. The key advantages of the system are its ease-of-use, simple manageability, and functionality to provide image viewing both locally and remotely. The system's multiple modality capacity for acquiring images makes it easy to switch from one acquisition device to another at the click of a button. The full DICOM system offers an integrated full body/dental imaging product to manipulate and store full body and dental images into one worklist. The Veterinary Digital Turnkey Solution also allows users to utilize the full dental software to create templates for all digital dental images. This proven technology combines major dental modalities, including Schick and All-Pro, in the simplest and most effective solution for every veterinary imaging need.
Veterinary practices now only need one software program to perform CR or DR acquisition, dental acquisition, and PACS manipulation and storage. This turnkey solution eliminates the need for several software packages and databases to acquire images from a multiple of sources, making digital imaging and diagnostic viewing easier than ever before.
Viewing for ultrasound, endoscope, CR, DR, and digital dental modalities is simple with the system's sophisticated DICOM-compliant PACS server that can accept virtually any image from any system and export it in a variety of formats to additional viewing stations, multiple exam rooms, CD or DVD, DICOM send, or remote locations. The fully integrated system also provides the ability to share individual DICOM images with clients and colleauges, at any time and location, via e-mail with our DICOMmail product.
MPP for Veterinary is the first and only premier integrated turnkey solution that can handle all digital full body and dental images, and produce high-resolution, diagnostic quality images for superior evaluation and accurate diagnosis.
Complete Acquisition:
Creates an integrated body/dental imaging system
CR full-body acquisition
DR full-body acquisition
Dental acquisition
Combines major dental modalities, including Schick and AllPro
Patient registration
Multiple modality capactiy makes it easy to switch between acquisition devices
All images stored under one worklist
Complete Viewing Station:
Viewing for ultrasound, endoscope, CR, DR, and digital dental modalities
Ability to view images both locally and remotely
Comprehensive toolkit, including zoom, window/leveling, panning, measuring, and much more
DICOM send and receive functions
Additional viewing stations can be added and networking capabilities can be increased, for multiple exam rooms and/or remote locations
Complete PACS System:
Image storage
Archiving system
Disaster recovery
Easy CD/DVD burning
DICOMmail to e-mail images to a referring doctor, saving the time and money associated with burning images to disks
Full Dental Software:
Mount tools for dental acquisition
Preset mount templates included
Easily create mount templates for every practice need
Additional image manipulation tools, including pseudo-color and emboss functions
All images stored in the PACS are managed in one centralized worklist
Additional Benefits:
One worklist combines multiple modalities
Time and cost savings for the practice are passed to the customer
Assurance that all modalities will communicate within one system
24/7 technical support from our team of qualified technicians
Live voice when calling technical support, not automated service
Outstanding reputation in the medical PACS industry for over 15 years