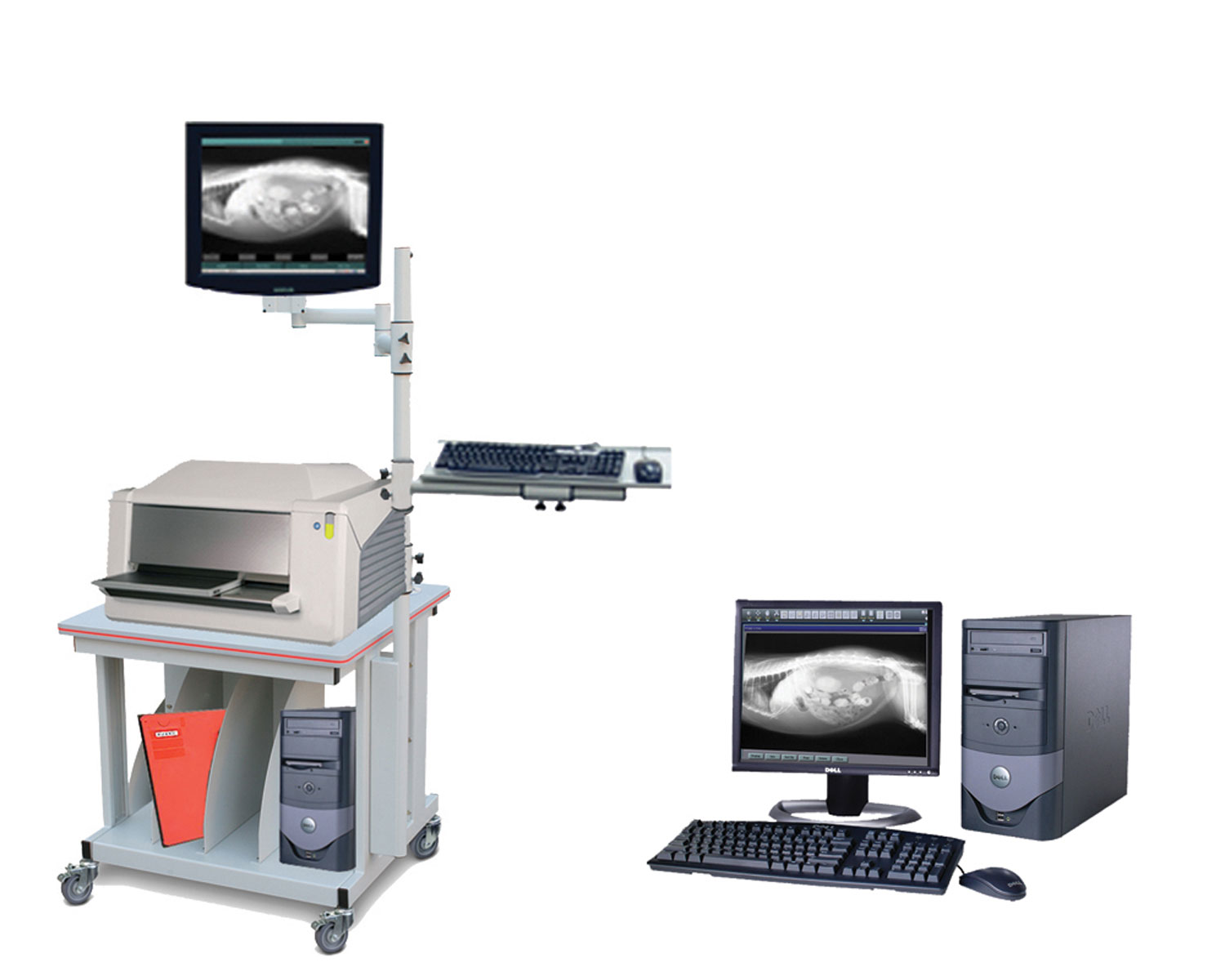 VETinfo SYSTEMS introduces a web-based PowerPACS and CR solution for the veterinary digital imaging industry. This combination enables practices to acquire x-ray images through advanced CR technology features, including veterinary specific image processing algorithms, along with standard DICOM modality.

PowerPACS CR ONE Advantages and Features
Designed and implemented for the veterinary industry
Complete out-of-the-box solution
True web-based system
Seamless workflow to acquire, view, archive, or burn CD/DVD
Veterinary-specific image processing algorithms
Significant cost savings from filmless operation
Maintain a minimum of 50,000 CR studies online
Able to acquire and display all DICOM images, including dental and cine loop ultrasound
Can interface with most Practice Management (PM) system
24/7 customer support from live service personnel
Product can be installed in one day, and is easy to use and maintain
Reads imaging plates at the high resolution of 10 pixels/mm,for all image plate sizes
Output is 50 plates per hour (14" x 17")
Tabletop sized CR, so it can easily be placed at any location and also be mobile
Special LED technology in the erasure unit means conserving electrical power and reducing operation costs
PC SPECIFICATIONS:
Standard Workstation
Dell tower packaging with minimum of Intel Dual Core Processor 2.6 GHz, 2 GB RAM
(2) 500 GB SATA Hard Drives in RAID 1 configuration
20X DVD Burner
Integrated Video Display Driver Card
10/100/1000 BaseT Network Interface Card
Windows XP Professional
Monitor
20" Dell Widescreen Color Flat Panel Display
CR SPECIFICATIONS:
Throughput
35 x 43 cm (14 x 17") = approx. 50 plates/hour
24 x 30 cm (9.5 x 12") = approx. 57 plates/hour
18 x 24 cm (7 x 9.5") = approx. 60 plates/hour
Greyscale resolution
Data acquisition: 20 bits/pixel
Output to processor: 16 bits/pixel
CR PRODUCT DETAILS:
Cassette Sizes and Spatial Resolution
(2) 14" x 17" are included
(2) 9.5" x 12" are included
* Also available in 7" x 9.5"
Power
Standby 120W, max 320W, 16A fuse 120V/60Hz (USA)Standby 120W, max 320W, 15A fuse
Environmental effects
Noise level: max. 65 dB (A)


Heat dissipation: standby 120 W, max. 320 W